Last Updated: 9/20/2019
Posted on 9/20/2019 at 10:20PM
WKUW 40 is Airing H&I, StartTV, Decades, and Movies
Right now, as I type this, WKUW-LD channel 40 is showing the networks H&I, StartTV, Decades, and Movies!. Right now, they are saying MeTV-HD on WKUW 40.1, but all it is is color bars with an annoying tone. WJFB is still showing TCTHD, TCT, and LightTV. When the hour mark happened on WKUW 40.2 H&I, at the bottom it said "WJFB 44-2 / WKUW-LD 40-2". So, I don't know if it will stay on WKUW right now until WJFB will pick it up or they will broadcast on both WJFB and WKUW. I cannot receive WCTZ 35 or WJDE 31 right now, but could someone look and let me know what both channels have? Below, I am listing the channel line-up. When more news breaks, I will post it here.

40.1 MeTV-HD
40.2 H&I
40.3 StartTV
40.4 Decades
40.5 Movies!

Update: Also, WKUW-LD 40.1 is now 720p, while all the others (40.2-40.5) are 16:9 480i SD.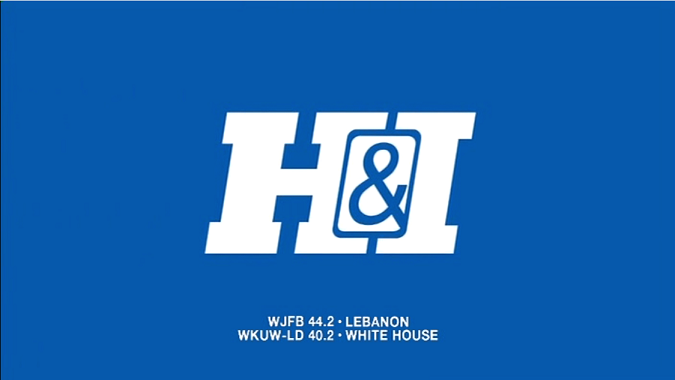 4 Comments - To post a comment, please log in.
Show Comments
40 for me has been on a test signal for 2 days and now I'm getting what you are getting now.I haven't seen 35 in a while.Is 40 and 44 owned by the same people?I am thinking they may be doing it this way to get the most coverage for metv because ch 44.1 is 22 on Xfinity and that covers the cable and 40.1 will cover the over the air people although if that's so I will miss buzzr but I do like the new channels so far
Yes, WJFB 44, WKUW 40, and WCTZ 35 are all owned by HC2 Broadcasting.
Thanks for keeping up with all this it is very helpful
I have WCTZ LD , The channel I have are: 35.1 BUZZR 35.2 Shop LC 35.3 CBN News 35.4 Quest 35.5 Infomercials (?) 35.6 Soul of the South 35.7 JTV : Jewelry TV rECEPTION IS VERY CLEAR.
Looks like 40 programming is going to be on 35 solely and I figure metv will replace TCT on 44.1 and the other 2 will stay the same and 40 new lineup is set....but I could be wrong will see on Monday
Posted on 9/16/2019 at 4:07PM
Editorial: Making Myself Clear...
I just want to take this opportunity to make myself clear about the last post I did (see below). I don't know if I might have lead somebody to think that WJFB channels 44.2 through 44.5 will be coming or not, but I want to say here and now that I do not have any concrete evidence or proof that those other channels (or networks) will be coming to WJFB. All I know, for fact, is that MeTV will be coming to WJFB next Monday, Sept. 23rd. I only showed that picture of what Titantv.com had because of the news that MeTV would be coming to 44.1. I just wanted to let everyone know to keep an eye out for POSSIBLE other networks that MAY be coming to WJFB. Sometimes, Titantv.com may make some mistakes. If I do hear or see anything to prove about those other networks coming, I will post about it. Also, the WJFB page on Wikipedia is not proof, because I have heard that anyone can update a Wikipedia page whether it is true or not. I want to thank Stilgar for bringing that to my attention. Again, I hope I did not get anyone's hopes up for the other networks. They may not come to WJFB.
1 Comments - To post a comment, please log in.
Show Comments
What is going to happen to the other channels that are currently on 44.1, 44.2 and 44.3 once it gets to September 23?
One thing I have noticed today is that 44.1-.3 all all showing the exact same programming now. I'm wondering if they are preparing for some change.
Posted on 9/12/2019 at 2:20PM
MeTV Coming to WJFB 44.1
I just saw a commercial on MeTV alerting viewers that beginning Sept. 23rd, MeTV will start airing on WJFB 44.1. It also said something about channels as in more than one and to re-scan then. Awhile back I had seen on Titantv.com about WJFB's schedule. I didn't know if it was true or not, but now given that MeTV is coming to 44.1, it may be. I am posting a screen shot below I took of the schedule. It has 44.1 MeTV, 44.2 ThisTV, 44.3 StartTV, 44.4 Decades, and 44.5 Movies!. We will see if it has those channels come Sept. 23rd. Until then or when news breaks again, I will post then.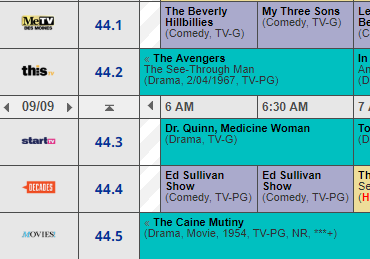 8 Comments - To post a comment, please log in.
Show Comments
Thanks for posting this screenshot! Im am just as happy about seeing Decades and Movies coming to 44....Great News Today....Thanks NashDigie!
Just knowing I'll still be able to get MeTV on a station with a pretty good signal alone makes me happy. If those other channels are moved to there as well, then all the better! If only H&I was on a channel a I could receive then my life would be complete ;-)
Also, I forgot to say thanks for letting us all know about this! I just saw the commercial myself.
This is awesome news if true! Since WJFB was recently sold, it makes sense the new owners—which is a corporation and not religiously affiliated, at least as far as I know—would move to more commercial content.
FYI - for those who may watch over the air and also have Xfinity Comcast - WJFB is on cable on channel 22.
Thanks for the update on METV. I really appreciate it.
This IS good news! Especially since Channel 44 is one of the few channels I've been able to receive without interruption. Looks like they're carrying all of the Weigel diginets except H&I. This TV appears to be a bonus. I've watched Start TV and Movies! when visiting family in Memphis. They replaced Decades with Start TV down there. Maybe H&I will come someday.
Do you know if Ch 44 is going to boost their power? I only get it sometimes at night and I am really disapointed if i cant get METV?
Well, they will change channel from 44 to 25 next month. They also will be going from 1000kw to 950kw. Now even though that is going down in power, somehow changing channels to channel 25 will increase the broadcasting radius. I don't know how but it is suppose to. That is what I get from comparing the contour plots from Rabbitears.info. Here is the link to WJFB channel 44's contour plot - https://bit.ly/2mg1OcZ, and here is the one for WJFB channel 25's contour - https://bit.ly/2miVDoE. If you have them in separate tabs and switch back and forth, you can see that there is a difference.
I hope this new broadcaster's channels have a good strong transmitter. I get channel 2.2 perfectly clear here in Clarksville on my indoor antenna, but apparently channel 4's transmitter is WEAK. No signal at all here, so no COZI TV for me. I'm going to be irritated if I have to set up an outdoor antenna for MeTV.
Yeah, this station (WJFB) has been on the air since 2007. I am sorry to say, but you may have to put up an outdoor antenna since they actually broadcast from a tall hill near Lebanon, TN and you live in Clarksville. Next month, they will switch to channel 25, but in the same spot as they are now. There might be some enhancement when they do change channels. If there is anything I can help with, just let me know.
Posted on 9/6/2019 at 3:00PM
Say Bye Bye to MeTV
Yes, you read it right. MeTV will be leaving Sunday, Sept. 22. It will be replaced on Monday, Sept. 23 with Bounce. Thanks to stilgar, he alerted me to a commercial, which I haven't seen before, that said Bounce was coming to WKRN 2.2. So, I e-mailed WKRN, and they replied back. The reply is below. So come Sept. 23, MeTV will have no home in Nashville. Until more news breaks, that's all for now.

"Yes Bounce TV is replacing MeTV effective 9/23/19. No MeTV will not moved to another WKRN subchannel as those are full and we are unaware of it going to another station in the market. This change of channels was at the corporate level and the station was not involved in the descission[sic]. Thank you for your email."


11 Comments - To post a comment, please log in.
Show Comments
I sent an email to METV to see if they are planning to relocate to another channel in the Nashville Market...I will let you know what they say
I hate to see METV go since it is one of my favorites and I watch it a lot. I know BOUNCE was once seen locally on Channel 42. I can no ;longer pick up that channel,even if I re scan my television. Has 42 gone off the air or have they changed their antenna and I can no longer pick it up? If they are still on the air what will they get to replace BOUNCE?
This news STINKS!! After years of trying to get MeTV to come in good on WJDE 31...I was happy when it moved to WKRN....I watched Bounce occasionally on Saturday nights when they play the old movies from the 70's...But this is a BIG step down in programming....Maybe WJDE will pick it back up again and with their transmitter move, lower frequency and higher wattage maybe we all can receive it better...Anyway bad news today
On their Facebook page, Me-TV responded to a visitor post about WKRN dropping Me-TV by stating that Me-TV would continue to air in Nashville "with little or no interruption." I'm just hoping one of the larger stations with a good signal picks it up.
Why is it that Scripps owns Channel 5 (WTVF), but all the other networks carry their diginets (Bounce, Escape, Grit, Court TV)? Okay, so they carry Laff, which is a joke. I just got Channel 40 (WKUW) back a few weeks ago. I was excited to see they had Soul of the South since I've never been able to get WJDE. They advertise reruns of Tony Brown's Journal, but they only show "Black Dragon's Revenge" and "Deadly Impact (1984)" every night. I would watch H&I and Decades if I could pick them up. These diginets are really letting me down.
Here is what I have learned since hearing this horrible news earlier: Nexstar, who owns WKRN, is removing Me-TV from all the stations they own that currently broadcast the network. Nexstar is merging with Tribune Company. One of the television networks Tribune owns is Antenna TV, along with This TV and WGN in Chicago. Although this is speculative, it looks like Nexstar does not want the Weigel-owned Me-TV broadcast on their channels. It's too bad WZTV and WKRN cannot work out some kind of trade of Antenna TV for Me-TV. Since Me-TV is the most-viewed retro channel, it seems like a very poor business decision to drop them. I would think other Nashville stations would jump at the chance to pick them up. Oddly enough, Bounce TV is owned by Scripps, who owns WTVF.
I was so hoping I imagined that commercial. I agree with others hoping that it will show back up on another well powered station that everyone will be able to receive. MeTV has been my go to retro channel and this just makes me sad.
I guess I`m kinda lucky cause i have Dish network and MeTv is on Ch.247.
But if Your dish network MeTV is channel 2.2 from WKRN in Nashville, then Yours will change too.
I believe 247 on dish is the national feed
Reads like a typical merger change to me. Bounce TV may be temporary in the 2.2 slot until local contracts end for Tribune-owned diginets Antenna TV and This TV. MeTV contract could've been up and Nexstar/Tribune doesn't want to renew a rival to Antenna TV. WKRN may also need to wait on contracts to end with Grit and Justice, but they could conceivably have Antenna, This, and Bounce when the dust clears. As it unfolds, look for diginet basket turnover up and down the local dial, with MeTV likely landing at 17 or one of the other Sinclair stations.
Just saw a commercial that said MeTV is going to WJFB 44.1....That is good news as 44.1 is HD and a fairly strong signal....Hope this sticks!!!
Yeah, I just saw the same commercial. I was just going to post it.
Posted on 8/23/2019 at 2:03PM
Dabl is Coming to WNAB
Beginning Sept. 9th, Dabl, a new diginet focused on lifestyle programming, is coming to a new channel, WNAB 58.4. The new network is scheduled to begin Sept. 9th, but I don't know if that is when 58.4 will began or not. Click here to go to their website to check them out, but right now, the website is very minimum until Sept. 9th. Until more news breaks, that's all for now.


1 Comments - To post a comment, please log in.
Show Comments
I have tried multiple today and last week and I am still unable to receive this new channel. I have also moved my antenna around a bit as well with no luck. Please keep me updated if other people are successful in getting this channel.
Actually, as I type this WNAB 58.4 is still not on the air yet. I have been looking but they haven't started broadcasting yet. If you can receive WNAB 58.1-58.3, then you won't have a problem receiving the new channel once they start broadcasting it. All you have to do is re-scan.
Okay, thanks! Once you hear the news that is available, please let everyone on this site now.
Posted on 8/21/2019 at 5:36PM
Repack Update - WHTN
I have another repack update for you. This time it involves WHTN channel 39. The station, right now, broadcasts on channel 38 at 1000kw on a tower that is located on the west side of I-840 near the Wilson/Rutherford County line in Wilson County. It has a construction permit to change channels from 38 to 16 at the same location and same height, but to go from 1000kw to 900kw. They was going to change channels on Oct. 18th. They still are, but they will be switching to a temporary antenna at a much lower height and at just 24kw. Yes, just 24kw. The reason is because the tower crew that is going to install the new permanent installation is being delayed with other projects that WHTN has to apply for an extension on their permit for an additional six months. Once they do the work during those six months, they can power up the permanent installation at any time. They don't have wait until April 18th (exactly six months from their permit expiration date) for that to happen, but until then, they will only be operating at 24kw. Until more news breaks, that is all for now.
0 Comments - To post a comment, please log in. No Comments
Posted on 8/13/2019 at 12:52PM
Update on WJDE 31
I've recently heard that WJDE has been off the air for about two weeks. I e-mailed someone about it, and their reply is below. This is all the news I have for you right now. When something else comes along, I will post it here.

"We are back on the air at this point. We did have some issues recently. But it should be on now."


2 Comments - To post a comment, please log in.
Show Comments
I have a picture on the WJDE stations but I have no sound.
Today WJDE is dead again after being on the air yesterday for a short time (with no audio)...I went to the stations website and wrote a letter and Mr. Fawbush wrote back to me "Yes we are having issues again. Will resolve quickly. Thanks for the heads up. " I am sure looking forward to their transmitter move and increased power in January..So many great stations that should be seen by many more in Nashville and surrounding areas that are very tough to receive right now....I'm looking forward to that day!
By the way, I want to add that when they said they would start broadcasting on their new channel, it could be anytime between Oct. 19, 2019 and Jan. 17, 2020. It doesn't have to be in January. Also, thank you aludra for the update, and I, too, look forward to it.
I wondering if after they make the move if there is any chance of receiving WJDE down here in Spring Hill? I'm hoping, but don't want to hold my breath.
Posted on 8/9/2019 at 10:33PM
Repack Updates - WTVF and WJDE
There are two updates concerning the upcoming repacking of WTVF NewsChannel5 and WJDE channel 31. First, WTVF NewsChannel5 is going to change from channel 25 to channel 36. A station that is involved in the repack usually constructs a side-mounted antenna for their current channel temporarily, so they can replace the top-mounted antenna for the new channel before the deadline to switch channels, but this is not the way WTVF is doing it. They have already constructed their temporary side-mounted antenna, but it is for the new channel. Their plan is when the deadline (of Oct. 18th) comes, they will switch channels to 36 on the temporary side-mounted antenna while they begin constructing and placing the permanent antenna on top, but as you can read below from an excerpt of an FCC filing, they have a problem.

"WTVF completed construction of its interim antenna facility on the post-auction channel 36 in September of 2018. The interim antenna and transmission line were installed, but have not been tested due to the continued operation of WNPX & WKMU on channel 36. WKMU has recently notified us that they intend to transition to their post-auction channel on October 18, 2019, which is the final day of phase 6. This leaves WTVF no option but to also transition on the last day of phase 6 and affords us no opportunity to remedy a problem should something go wrong. It also means that WTVF's work to install our top-mounted full-power facility on the post-auction channel cannot begin until phase 6 is over.

Additionally, an unforeseen delay on the part of either WNPX or WKMU could keep WTVF from making our transition in a timely manner, and could threaten downstream-linked WJFB's transition as well. "

OK, so, if you don't know what they mean by "could threaten downstream-linked WJFB's transition as well", they are talking about WJFB 44 will be changing channels at the same time by changing from channel 44 to channel 25 (the same as WTVF's current channel). So, if there is some delay in either WKMU's (Murray, KY) or WNPX's transition to their new channels, that means WTVF will have to delay their transition as well as WJFB. There have been some stations in the repack that have been delayed because of delays in tower crews not getting to the next station in time. So, that could happen here.

Now that brings me to WJDE channel 31. It appears that WJDE will not be able to transition to their new channel 23 on Oct. 18th. The reason why is because they have not received their reimbursement from the auction to pay for the delivery of their new equipment. They say that they won't be paid in time before the deadline. So, they are requesting to move from the phase 6 deadline of Oct. 18th to phase 7 deadline of Jan. 17th, 2020 and also requesting to stay on channel 31 until they are able to get their new equipment, install it, and start broadcasting on their new channel. So, there you have it. I know this is a lot to take in, but I am trying to let everyone know what is going on with Nashville's TV airwaves.


1 Comments - To post a comment, please log in.
Show Comments
Hello.....Is there any news if WJDE will be back on the air again soon? I usually get a good signal (for wjde) but they have been off the air for over 2 weeks now....I hope they will be back on the air before January ..They have some great programming that I am missing....BTW this is a valuable website!! ...Thanks for making it available...Mike
I have e-mailed them. I am now awaiting a reply. Once I get it. I will post it.
Free counters provided by Andale.